If baby does not sleep at night after eating this puree … 🙂
In general babies love sweet potato because it is very well named… it is sweet! Sweet potato is a starchy food, so it is ideally combined with another vegetable such as carrots so that it is not too heavy for baby's stomach.
It is an ideal puree for dinner.
The sweet potato is rich in vitamins, copper and manganese, and it will give beautiful colors to your baby skin.
The carrot is also rich in vitamins and it will also contribute to the beautiful color of baby's skin!
The combination of the two is therefore perfect, because your little one is still too small to be exposed to the sun 😉
For having tasted it myself (yes I taste all baby dishes!) I can tell you that it is delicious, and even adults should not miss it.
Here is what you need to prepare this carrot and sweet potato baby puree recipe (from 4 months):
Ingredients
1 sweet potato (about 8.8 oz / 250g)
4 large carrots (about 7 oz once peeled / 200g)
Preparation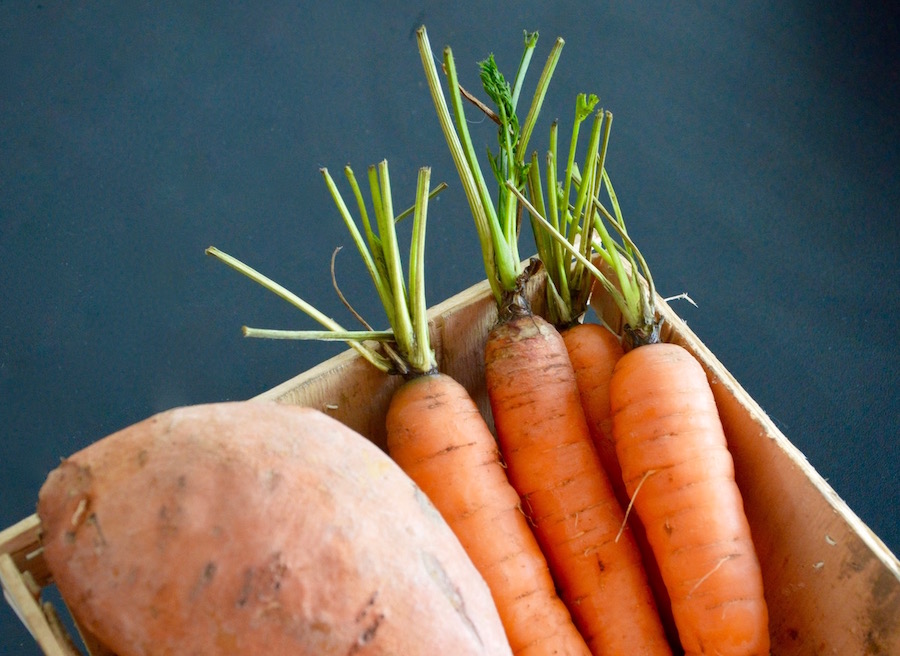 Start by washing your vegetables.
Remove the tops from the carrots, and peel them. Cut your carrots into thin slices (thin for cooking to be faster).

Peel the sweet potato, remove all the little roughness and slice it in thin slices as well. You will see that the sweet potato is quite difficult to cut, the knife does not slip on it, so put a little force in it but be especially careful with your fingers!

Cooking
Put the sweet potato slices at the bottom of your steam basket and start cooking for 16 minutes. Add the carrot slices to the steam basket after 4 minutes of cooking (so we will have 12 minutes of steaming for the carrots!).
Once the cooking is finished, put everything in your blender and add the cooking water until you get a very smooth puree for your baby, and therefore easy to eat (we adapt the texture according to baby's age, but this puree can be eaten very smooth at any age and for the evening meal it is even better).
It's ready !
Bon appetit baby!