We have seen in another article how much baby food your baby should be eating when starting solids. But in fact, we forgot one important thing before that:  How to start solid foods for babies? 
To be honest, at the beginning I was completely lost. I knew this was going to happen. I was really happy to cook for my baby, but I was also, and above all, very anxious!
"Will my baby like what I'm cooking?" "Will he prefer industrial baby jars?" "Will my baby refuse everything categorically and spit out everything?" So many questions that cause unimaginable stress in parents!
This  4-months-old baby doctor appointment, we look forward to it, but when the pediatrician tells us:
"Your baby can start solids!"
Well actually, ok, but what exactly do I have to do? The pediatrician will carefully answer all your questions, guide you, give you the list of fruits and vegetables with which to begin solid introduction…
I have tried to synthesise everything to help you start your baby solid food introduction as safely as possible without too much stress. For that I have created a 30-day schedule.
Before checking this 30-day solids schedule, few tips:
Always listen to your baby's pediatrician, he can guide you properly and adapt to your baby
The number of spoons indicated in my 30-day schedule is an average, if your baby does not want more puree, do not insist, if he wants more, do not hesitate -> BUT he has has to be hungry to drink his milk after, to be adapted the following days.
If your baby does not want to eat with a spoon at all, you can start by mixing a few spoons of vegetable purée in his usual milk bottle. Accustom him to taste before getting used to this new sensation in the mouth.
If your baby does not want to eat a vegetable or fruit at all, do not insist. Try again one or two weeks later: it is said that it takes an average of 10 attempts to know if baby really does not like it!
When the baby has reached the amount of puree required for his age for lunch, do not hesitate to start the same thing for dinner.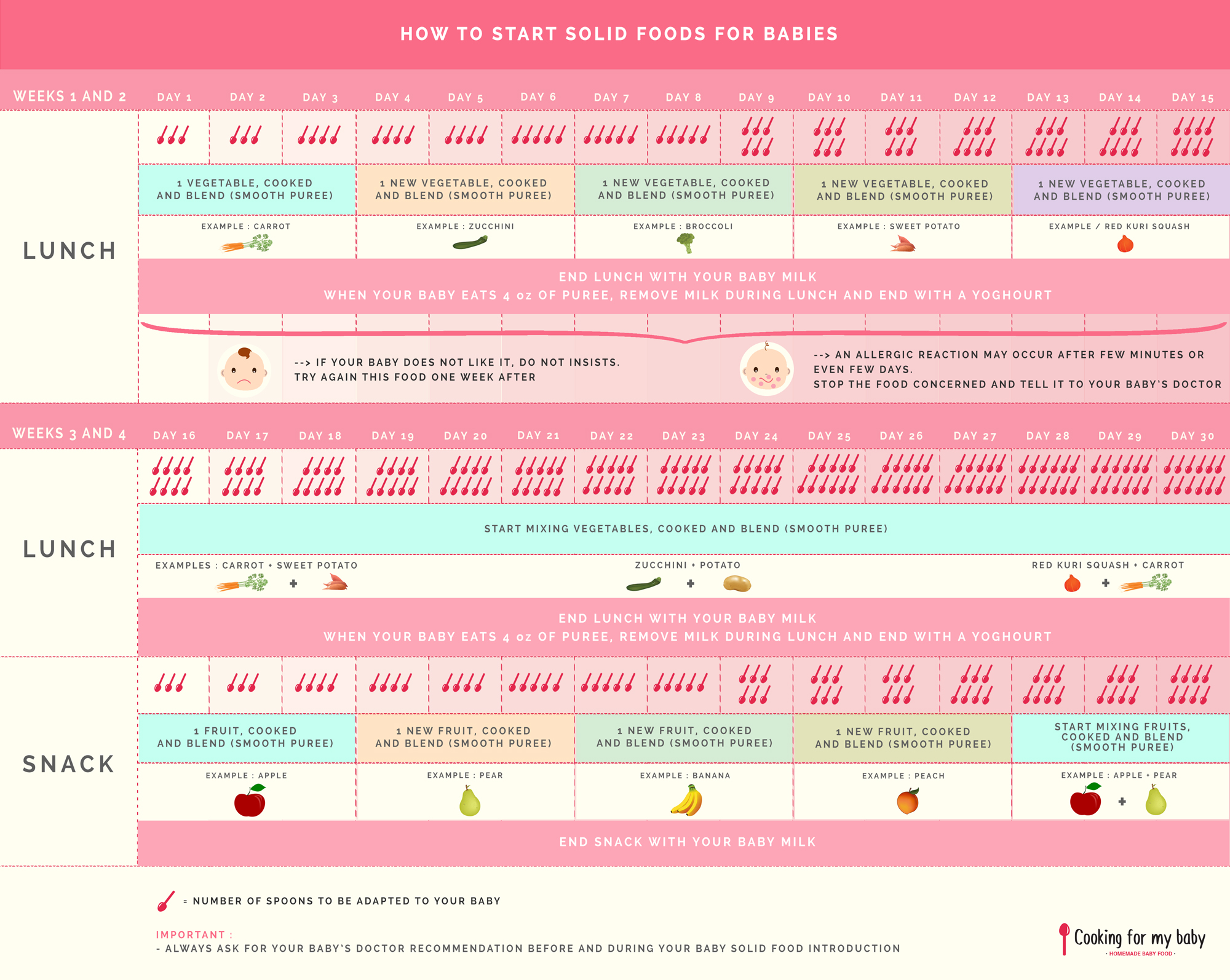 Click here to download the 30-days schedule : How to start solid foods for babies.
Click here to check the baby 4-month-old recipes.
I hope this little 30-day schedule : How to start solid foods for babies will help you !
How to start solid foods for babies? (30-day schedule)