Today I decided to prepare a chili con carne for my baby. I love this dish but I obviously had to adapt it for Alix because this dish is too spicy, she would not like it as it is and it is quite normal! In addition, I did not put red beans, which are too difficult to digest, especially for a child. I replaced them with green beans…
Chili con carne with green beans recipe for babies (From 12 months)
This recipe is ideal for children who start eating alone with their spoon or little fork, and especially for children who love pieces to chew! The tomato puree serves as a binder and above all makes this dish easier to swallow, less dry. If your baby is not yet comfortable with the pieces in dishes of this type, wait a bit, there is no point in running!
We serve this chili con carne with rice. This dish ideal for the whole family, so prepare it without hesitation in large quantities!
Corn, tomato, green beans, rice, meat … we have everything you need for a complete dish for your baby  🙂 I even add a little bit of cheddar at the end because my little one is crazy about it (and we know who it comes from… 😁)
Here is what you need to prepare Chili con carne with green beans recipe for babies (From 12 months, for 1 serving):
Chili con carne with green beans recipe for babies (From 12 months)
- 3 tbsp ground beef (20g)
- 0.35 oz onion (10g)
- 4 oz tomato puree (120ml)
- 0.88 oz corn (25g)
- 0.88 oz green beans (25g)
- 0.7 oz uncooked rice (20g)
- 1 pinch of cheddar cheese
- 1 tsp olive oil
Start with green beans. Wash, hull and steam for 8 minutes.

Cook the rice. I like to overcook it so that the rice is soaked in water and is not too dry, it is easier to chew for babies! I also like to cook it at the same time as my steamed vegetables, in the same cooking water, it is ecological, economical, and the rice benefits from the vegetable nutrients that are found in the cooking water 🙂
Meanwhile, peel the onion and chop about 0.35 oz. Heat a teaspoon of oil in a pan and fry the onion for about one to two minutes.

Add the ground beef to the pan and brown it for 1 to 2 minutes as well. It shouldn't be too cooked / dry !


Add the tomato puree and stir everything. Let simmer over low heat.

Add the corn to the pan, stir, and leave on low heat for a few minutes.

Once the green beans are cooked, cut them into small pieces add them to the pan, and stir.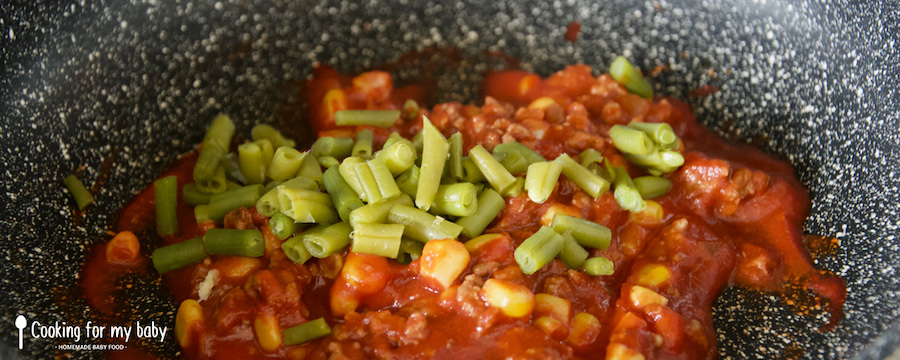 Remove from the heat, add a teaspoon of olive oil, stir, and pour the chili con carne mixture over the previously cooked rice. Add a pinch of grated cheddar cheese on top and it's ready !
Ideally served for lunch, and to share with the whole family by multiplying the quantities 😉
This Chili con carne with green beans recipe for babies (From 12 months) is now finished and baby will be able to enjoy it!
Bon appetit baby!