Today, we'll do everything with simplicity:
1 – Because as a Mom or Dad, we don't necessarily have a lot of time to devote to cooking…
2 – Because simplicity does not necessarily mean "less good" or "less nutritious".
Also, our home is not necessarily a large supermarket in which you can draw a little of everything when you want, especially when you do not have a garden!
Bananas and pears are two fruits that you can easily have at home at the same time, so I thought it would be great to prepare a puree.
Pear and banana baby puree recipe (from 4 months)
Bananas are rich in protein, phosphorus, fiber, iron, vitamins and minerals. Not bad huh? And in general babies love it. Bananas are also anti-diarrheal, so avoid giving them to babies if they are constipated. By cons we do not hesitate if he suffers from colic.
Pear is rich in antioxidants and fiber. It also contains a lot of vitamins. Per-fect.
Here is what you need to prepare this pear and banana baby puree recipe (from 4 months):
Pear and banana baby puree recipe (from 4 months)
[adinserter block="11"]
- 1 banana
- 1 pear
- Water for steam cooking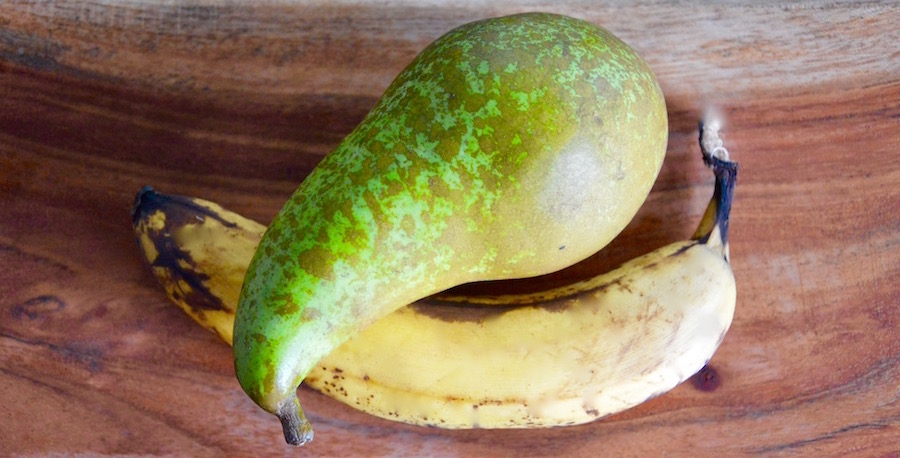 Start with the banana. No need to wash it, we remove its thick skin and cut the banana into slices. We put it aside because we are not going to cook it, we will blend it directly with the cooked pear.
Wash the pear, peel it and remove the wires and seeds in the center, and the ends. Cut it into slices.

Put the pear in the steam basket. Steam it for 5 minutes for a not too ripe pear.
Once the pear is cooked, place it in your blender with the banana slices. No cooking water, the pear has already saturated with water during steam cooking.
Place in the refrigerator for 2 hours, and we can serve baby!
Bon appetit baby!